Dipping Baskets
Dipping baskets and carriers are used to hold or contain various products in cleaning and coating processes. These products include orthopedic implants, surgical instruments and ocular lenses. These baskets are often used used in autoclaves for the sterilization of products and/or medical or pharmaceutical equipment.
NGS have designed and manufactured many baskets and associated carriers for clients who manufacture these medical products. We understand of the constraints and strict requirements applied when these products are being coated or cleaned.
We can manufacture these baskets in various grades of stainless-steel type materials with options of finish such as electropolishing, acid resistant coatings or powder paint enamel.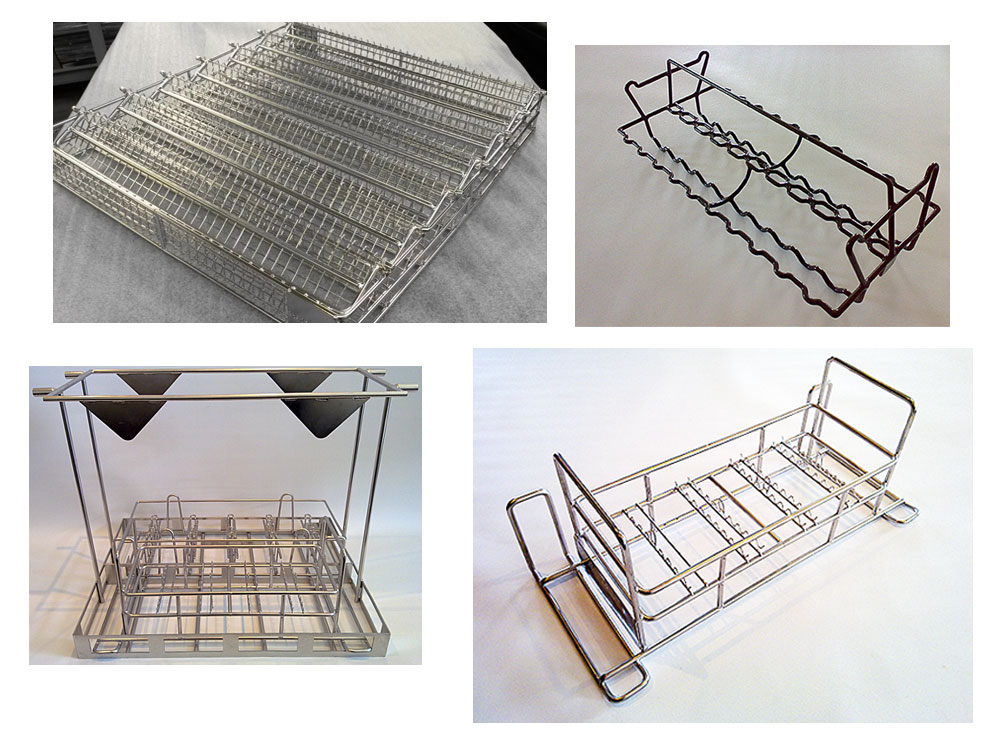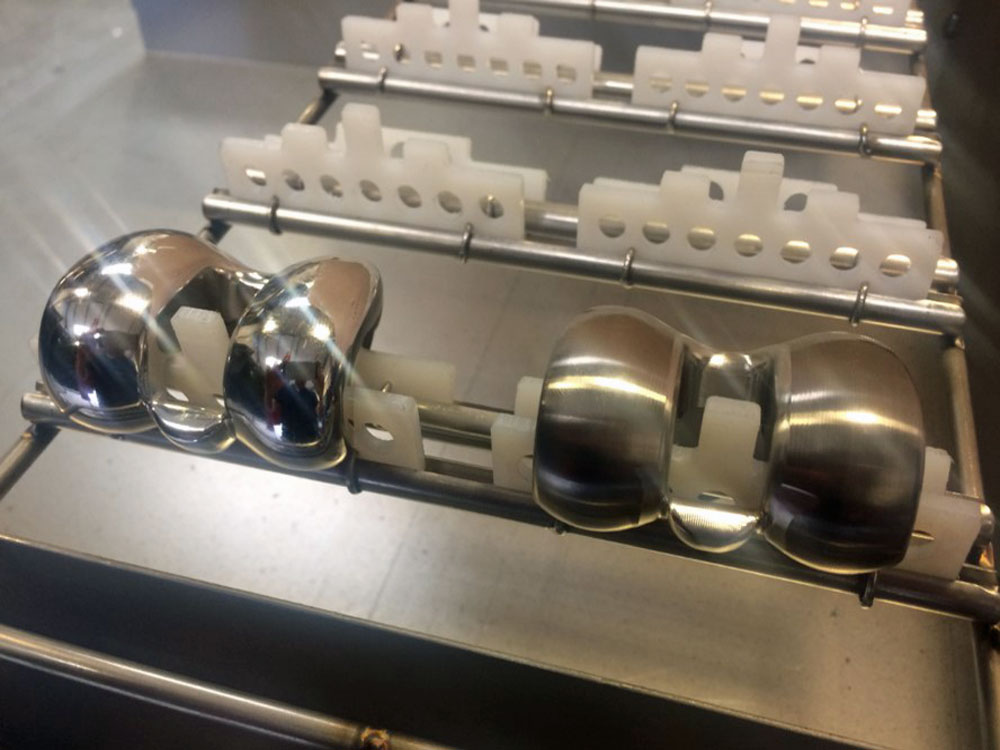 Dipping Baskets for Ultrasonic Cleaning
Ultrasonic cleaning is used in the Pharma and healthcare industry for deep cleaning of instruments or products and removal of contamination. The Dipping baskets are designed around the following constraints:
The product to be cleaned or coated and
The cleaning or coating equipment.
In particular, the distance between the basket and the transducers in an ultrasonic bath may be important in addition to the location of the product or products that are in being cleaned as well as the sometimes-complex design of the automation equipment.
As an example, the image shows knee joints that are positioned in the baskets/jigs for ultrasonic cleaning after polishing. This basket of product is loaded into a carrier on a conveyor and is then automatically moved through the cleaning stations of the line and unloaded for packaging at the end. NGS designed and manufacture the complete basket or fixture including the PTFE or nylon parts that are used to ensure no metal to metal contact.
Features and Treatments
In addition to tailoring the design of the dipping baskets for the application and the products coated or treated, there are a number of additional features that may also be included in the design and manufacture of the baskets.
In the previous example, PTFE was used to keep the components separated, other features may include an electro-polish finish on the basket or halar-coating.
Electropolishing is cleaning process used to deep clean the surface of the stainless steel and the joint welds, and is typically used in medical and pharma applications. The finished process will give a very high shine to the stainless steel.
Halar coating is a process that is used where aggressive acids are used in the product cleaning process. A typical application that NGS has worked on is the design and manufacture of baskets for de-molding and cleaning of spectacle lenses after these are manufactured.
Product identification may be a requirement in which case, each part number may have a specific basket or carrier or traceability to treatment process may be needed. In these cases, unique identification of dipping baskets may be provided.